#FFFFFF
Why does Inter-Canyon Fire Protection District department respond if you need emergency medical care? Why do they usually come with a fire engine in addition to the ambulance? Ever wonder what an "EMT" is? How about a "Emergency Medical Responder"? And what about a "Paramedic"? How do our local firefighters fit into these roles at ICFPD? And, perhaps the most important question, why is your local fire department even providing this service?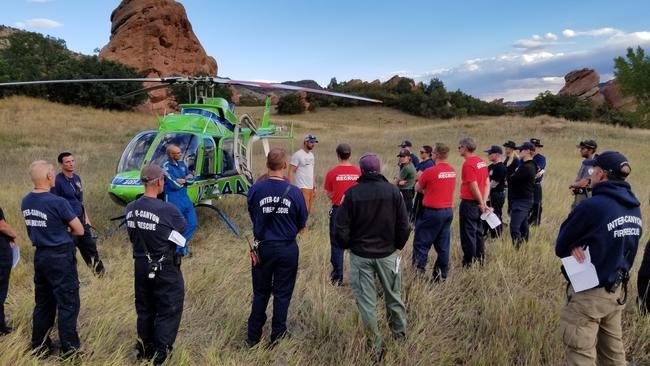 #FFFFFF
Fire service roots in providing emergency medical aid go very deep, and can be traced at least as far back as the middle ages. The Knights of Malta became a charitable, non-military organization during the 11th and 12th centuries, providing aid to the sick and poor and helping to set up numerous hospitals. The Maltese cross worn by the Knights was dec orated and inscribed by admirers as it came to be known as one of the most honorable badges for a uniform. The legend of the Maltese cross grew as it became associated with the qualities of loyalty, bravery and defender of the weak.
Today, firefighters across the country wear versions of the Maltese cross on their uniforms and apparatus. A related group was known as the Knights Hospitaller, with links to an ancient hospital system.
The involvement of the American fire service in field medical care or transport can be traced far back in American history, including in the Civil War. It was common for volunteer firefighters of the day to enlist in the Armies of the north and south with soldier groups known as Fire Zouaves. While they were not alone in doing so, Fire Zouaves operated field ambulances.
Prior to 1970, attendants with basic or advanced first aid training typically staffed ambulances in America. Often they were volunteer firefighters. Fire departments typically focused on fighting fires, but often provided some limited first aid and rescue services.
A report, published in 1966 by the National Academy of Sciences, was titled "Accidental Death and Disability: The Neglected Disease of Modern Society" outlined the deficits in pre-hospital care across the U.S. Also in 1966, Congress passed legislation creating the National Highway Traffic Safety Administration (NHTSA), from which came the first federal standards for Emergency Medical Services (EMS). By 1967, several large urban areas were developing advanced field emergency medical care programs using firefighters, including Miami, Seattle, Los Angeles, and Pittsburgh.
As urban areas expanded in the industrial revolution, private industry, hospitals, county governments and special districts began to operate many medical ambulance services when there was enough volume to make it profitable. Rural areas, where the need was less frequent, often provided ambulance services through volunteer fire departments. Inter-Canyon Fire Protection District began to provide ambulances services in the 1960s.
Service was elevated in the 1970s with volunteers completing the Emergency Medical Technician (EMT) course, providing Basic Life Support (BLS) services including oxygen, splinting, bandaging, IV therapy and transport to area hospitals.
The first Los Angeles County Fire Rescue Paramedic unit, Squad 59, officially went into service on December 8, 1969 with two newly trained Paramedics, leading eventually to an idea from producer Jack Webb to feature FD paramedics in a television show. When the show "Emergency" first aired in 1972, there were only three pilot paramedic programs operating in America.
By the time the show ended in 1977, there were paramedics operating in every state.
Why the link to fire departments (FD's)? Part of the 'lessons learned' in Vietnam included the importance of rapid care and transport. Also, emergency medical care incidents in the field sometimes occur with rescue or extrication complications. For example, hiking accidents in Deer Creek Canyon Park, house fires, motor vehicle collisions, and other incidents may first require patients be removed from further danger. Fire Departments can often get there the quickest, and have the specialized rescue training and equipment for extrication.
ICFPD uses a tiered response system; all of the ICFPD engines are equipped with BLS equipment and an Automated External Defibrillator (AED). The engine at each station may be the closest apparatus to your emergency and can initiate care. The engine can also block traffic to protect the scene, assist with landing a medical helicopter if needed, and transport additional staff for the emergency situation. Today ICFPD operates three Advanced Life Support (ALS) ambulances across the district. ALS care includes oxygen, airway management, IV therapy, cardiac medications, pain management, respiratory medications, and ECG monitoring. The volunteer firefighters, EMTs and paramedics of ICFPD, backed up by the career staff, provide on scene care and transport of ill and injured patients to area hospitals.