#FFFFFF
Following a dry spell in the spring of 1954 that culminated in two particularly bad house fires and a wildland brush fire, concerned residents met in April of that year to brainstorm a solution for the lack of fire protection in the foothills area in which they lived. The closest department that could respond to the area was 18 miles away.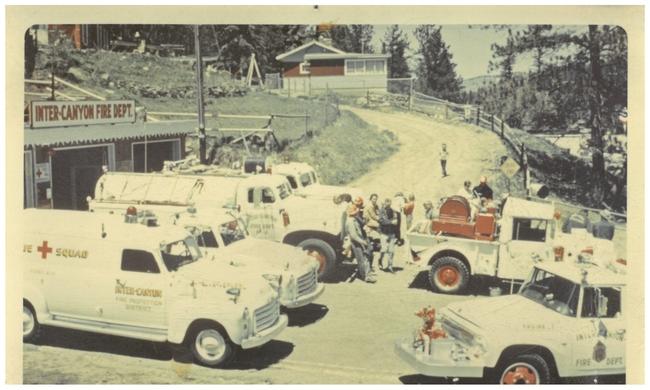 #FFFFFF
Homeowners and tenants in the South Turkey Creek, North Turkey Creek and Deer Creek Canyons met at the home of Sandy and Becky Simons to discuss the creation of a local fire squad. Resources were undeniably limited and restricted by the lack of funding. The strength of the effort was in the enthusiasm and commitment of these neighbors willing to work together. The name chosen for the new mountain "fire department" would be the Inter-Canyon Fire Company. The first fire chief was Loren Fender, he donated and housed the first fire truck. The second fire truck was purchased with money donated by residents and was also housed in Fender's Garage.
#FFFFFF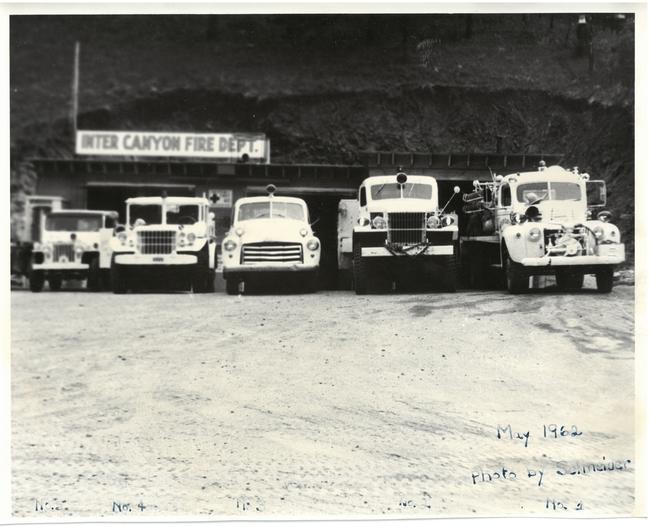 Organization meetings were held in the Fender's Garage and Mr. Fender's wife, Thalia Fender was made a member in good standing in appreciation of all the refreshments and baked goods provided during the meetings. The Fenders housed the trucks in their garage until the construction of the fire house on S. Turkey Creek began in 1956.
Construction was started by volunteers on a 60 x40 ft. tract of land donated by Frank Halm. All monies were donated until Inter-Canyon became a fire protection district later that year, thus making tax funds available. A second level was constructed in 1980 and today Station No. 1 still stands in this location.
#FFFFFF
In 1957 Fred Clark donated the use of a barn behind his dance hall at Phillipsburg to house a fire truck. This was the first site for Station No. 2 which later was located at the William Keith and later the Darrell Luethy residence on South Deer Creek and this is where the Station No. 2 houses trucks today. Station No. 3 was constructed in 1966 and residents donated labor and materials.